When I worked for a large company I always had an end of year appraisal to review the past year and see what was good, not so good, and create the plans and targets for the following year.  I always found them painful as they were so judgemental, but now I'm my own boss, I enjoy the process of looking back, reviewing what happened, the lessons learned and how to improve/grow for the coming year. It is so important to do this.
The idea for my business started several years ago when I moved into a new build property and had a garden that was turfed and surrounded by a wooden fence. It was soulless, boring, and uninspiring yet I had zero funds to do anything interesting with it. There must be thousands of people in the same boat so the seed was sown to create a business to solve the problem.  I retrained as a garden designer, left my corporate job, and started my business. So now I create planting plans for anyone who wants to create a pretty garden but doesn't have the time, knowledge, or resources to do it themselves.
In 2017, I launched Border in a Box in March via Amazon Launchpad, with five ready-made garden designs, each in their own attractive tin box – perfect for any gift such as house warming, birthday, wedding, retirement etc.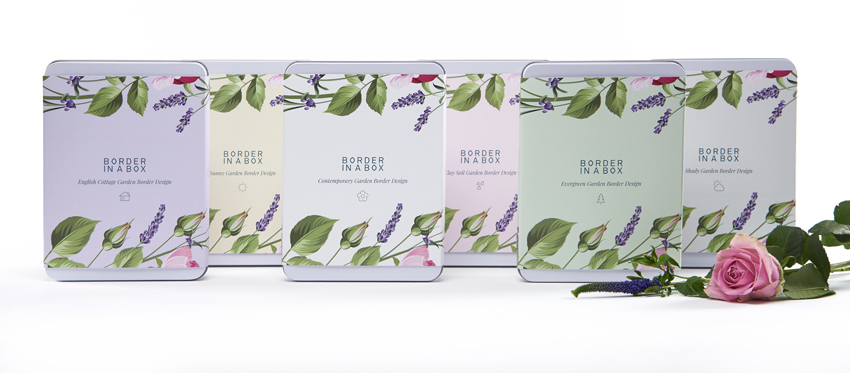 First steps
The process to get to this point was incredible and so rewarding.  I worked with a professional branding expert who designed the packaging. I spent many months creating the contents, working on planting plans, layouts, and choosing photos. I had no idea how long it would take to do each of these tasks. It was imperative to outsource those I wasn't experienced in to create the space for those I was good at and to ensure the product was of a professional standard. It was overwhelming (and wonderful) when I saw my ideas turning into a physical product.
I was accepted by Amazon Launchpad (their program for start-ups like me). I thought it would be amazing and the orders would roll in. I had no concept of SEO at this point. Trying to understand how Amazon's algorithms work and how to get the products and my business noticed are still baffling to me.  Needless to say, being lumped in with 116,000 products under the search term 'gardening gifts' it is tricky to stand out and I've come to the conclusion that I need to pay Amazon to get my product onto the first page of search results.
At the time when I was launching, I got contacted by Dragons' Den and asked to apply to the show – (see separate blog about this https://borderinabox.com/dragons-den-audition/).  This opportunity was out of the blue and added to the pressure of my product launch.
Building the brand
The next step was to get Border in a Box (BiaB) noticed in a crowded market place.  It was unique so people didn't know how to search for it, or find the solution to their problem. This meant a whole lot of learning as I knew nothing about how to match search terms and questions to Border in a Box products and how best to market the business and use PR to get it noticed.
I quickly learned that traditional advertising is costly, especially when you have a minimal budget.  Trying to work out the Return on Investment (ROI) before parting with my cash was impossible.  These aren't mistakes either; just part of the business journey.
So, I got started building my brand.
I write a monthly gardening article for a local newspaper, The Pershore Times, http://www.pershoretimes.co.uk/.
I joined a PR group by Janet Murray – whose insights and training have been invaluable to me. I've been featured in glossy magazines such as Period Living, Healthy, Modern Gardens, Country Homes & Interiors, Good Housekeeping, and Red and also in local & regional newspapers such as Birmingham Post, Worcester News, and the Evesham Journal.
I've done countless interviews and contributed to articles for Enterprise Nation, Flymo, and ACID + many more.
I regularly post on social media – Facebook, Twitter, LinkedIn.
I write a monthly newsletter.
I've also had sales tables at networking events.
Again, this all takes time and effort creating regular content.
To increase my business profile I applied for 'Garden Product of the Year' by Country Homes & Interiors magazine and won! The prize included a feature in their magazine plus mentoring by the owner of Garden Trading, which has been fantastic.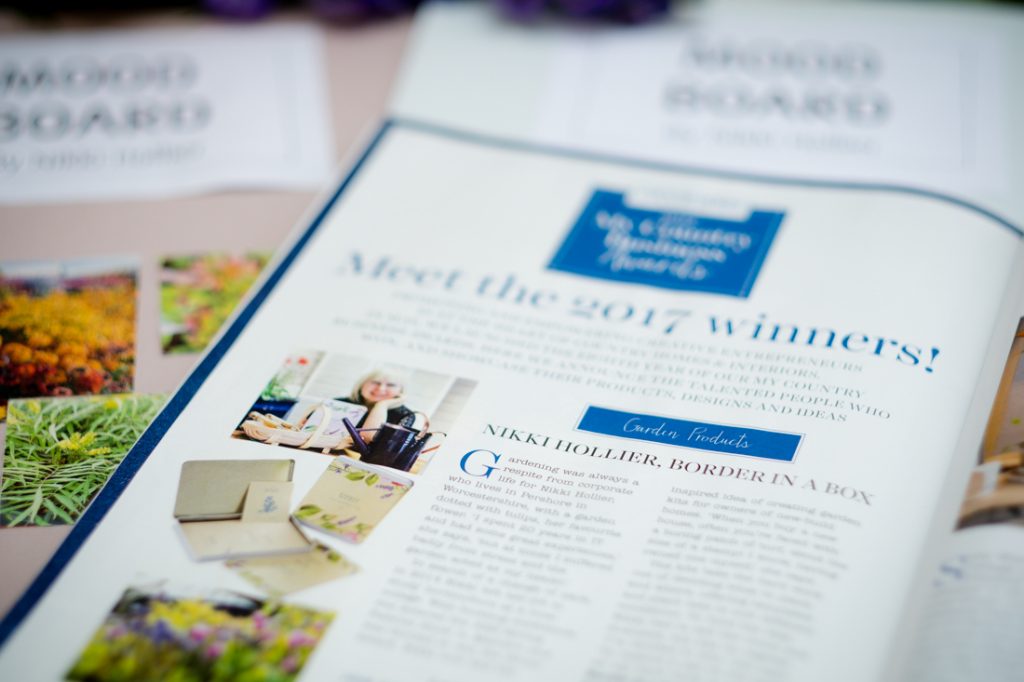 I also was shortlisted for Entrepreneur of the Year by NatWest which was hard to believe so early in my product's life.  I met some very inspiring people such as Leanne Bonner-Cook, who has just been awarded an MBE in the New Year's Honours which is incredible and I'm over the moon for her.
It wasn't all smooth sailing. I got chatting with one of the judges who initially was very helpful, but the conversation quickly started to get very uncomfortable with his 'interrogation' style of conversation. He asked me why I called my business BiaB and I told him the story. He hated all of it and couldn't understand why or what I was doing. He became very animated and quite intimidating which was a shock as we were at a social gathering.  I replied that Alan Titchmarsh loves BiaB (which is true and is a story for another day!). This stopped him in his tracks for a millisecond. I had no idea who this person was and assumed he must have had an amazing business that he created from scratch and had sold it for millions. I read his biography the next day and there was no mention that he had ever started his own business, but interestingly it says, "And if you don't know the answer don't try and fluff him through something vague, he'll tear you to pieces!".  No kidding! It was the worst experience so far – I seriously considered giving up at that point. However, I knew I had a great product which many people love so onwards and upwards.
Extending the range
At the same time, I launched 2 more designs (making 7 in total), created a new website, became a Not On The High Street partner, and sold via the gift shop at St Peters Garden Centre and the Walled Garden at Croome.
I also had a garden design office at a local garden centre every weekend which gave me the opportunity to talk to people about their gardens and find out what they liked and disliked. I loved helping them create borders and containers with colour, texture, and plants they would never have considered before which they really valued, but didn't pay for the help as they felt it was all 'part of the service' by the garden centre. It was a loss-leader but I learned so much.
Here's my design studio that I created from an unused garden building at the garden centre – some elbow grease and paint makes a massive difference:-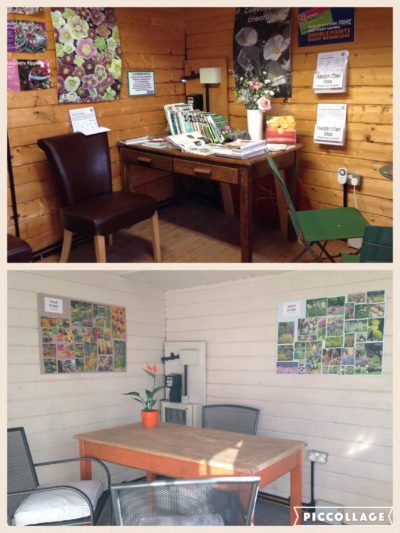 Lessons learned
It has been an incredible, amazing, awesome year so here are my top tips for anyone starting out.
Time – I found that everything takes longer than I expected. My advice is to allow triple the amount of time to complete a task as something always happens mid-way through!
Outsource – you can't do everything yourself to a professional standard, so buy in expertise and outsource the tasks you're not as good at as it will pay dividends in the long run.
Training – you will realise there are things you don't like doing or are rubbish at so enrol on training to learn how to do them and improve your skills. Never stop learning. I've signed up for a content marketing course to help develop my blogging skills.
Money – you can never have enough! There are always items to spend your money on which you hadn't anticipated at the outset and cashflow is critical so also think about when you need to spend.
Criticism – you need to develop a skin as thick as a rhino. It happens, so learn how to pick yourself up and take whatever lessons you can and stay true to your vision. Also ensure you build a network of like-minded people you can talk to.
Opportunities – say yes to everything! You never know what opportunities it will create further down the line
Give back. I love helping people and I became a mentor for Viewvo https://www.viewvo.com/ to help others who want to leave corporate life and change careers.
Balance – there is good and bad in every situation – it's all about balance. Sometimes you need to look deeper to find the good in some situations. It will all pass eventually.
Development – I visit trade shows and garden shows to develop ideas and network.
Be prepared for your business taking over your life – you will think about your business 24/7. This means some friends will naturally fall by the wayside but you will also meet and make some new and extraordinary new friends and acquaintances.
Take care of yourself – burnout is easy when you're trying to keep all the plates spinning
What's in store for 2018…
More of the same really but I've got plans to develop my product range further.  I'll be off to meet Theo Paphitis in February as he hosts an annual event for all the winners of his program to help small businesses. Most importantly, I will carry on helping people create their own beautiful borders from Border in a Box. Why not join them – https://borderinabox.com/shop/