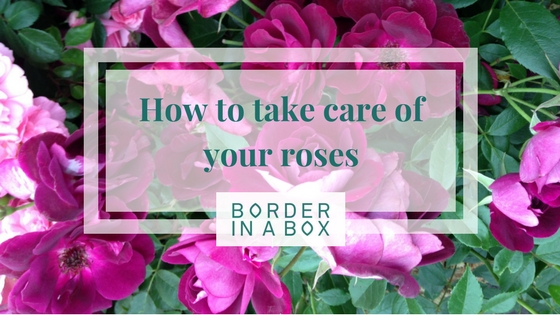 Roses are the staple of a traditional English garden and are relatively simple to take care of.  Firstly you need to choose the right plant for the right spot.  They prefer to be in a sunny site with at least a few hours per day in moisture retentive soil, but always add some well-rotted manure or garden compost when planting.  Keep them well watered too whilst they get established, especially during the first year.
Roses, especially the repeat flowering varieties need a regular supply of nutrients throughout the growing season, but don't over feed!  There are plenty of available products to choose from, so just follow the instructions on the packaging.
There are varieties of roses available that have been bred to reduce the amount of pests and diseases – which I would recommend you buy as this will reduce the amount of sprays required.  If you have yellow or spotted leaves, remove them by hand and put in the bin (not in the compost bin), remove any fallen leaves from the ground, as this will spread the diseased spores too.  Aphids can be removed my hand and then given a spray of soapy water.  Do this as soon as you spot them to keep your roses healthy.
Remember to dead-head fading flowers to encourage new blooms, unless it is a single flowering rose, in which case leave them to form the hips for feeding the birds during the winter months.
When looking for roses at the garden centre you may see various types of roses available, which the labels may cause confusion, so here's the most likely type of roses you will see:
Types of roses:
Tea roses
Hybrid Tea Roses have pointed 'bud flowers'. Each stem usually holds a single flower with sparse foliage at the base – think of Valentines day roses. Hybrid Teas have a range of colours from pastels to vibrant shades. They have a short, upright habit and are excellent for rose beds, formal rose gardens and even narrow borders.
Floribunda
Floribunda roses were originally produced by crossing Hybrid Teas with Polyantha Roses. They produce flowers in large clusters over a long season and traditionally have less scent, although new fragrant varieties are now available. They are ideal for most gardens as they are generally hardy, robust and more disease resistant than Hybrid Tea Roses which makes them easier to grow.
Shrub rose / English rose
(Definition of a shrub: a woody plant which is smaller than a tree and has several main stems arising at or near the ground.)
English Roses have a shrub-like bushy, upright growth and their height can vary from being quite short to tall. Compact English Roses work well in rose beds, whilst taller varieties can be trained against a post and rail fence. Most varieties will be happy in part shade which is four or five hours of good sun a day.
How to prune a rose
There are many books written on the subject of pruning, but here are some simple tips to keep your rose(s) healthy and happy:
The best time to prune a rose is around February/March. Roses need to be pruned to keep them in shape as they can get very bushy and leggy if left alone. It is also good to cut out old dying stems as this will also encourage fresh new growth which means better and more flowers.
Regardless of how old your rose is you will need to remove any dead, dying, diseased or damaged stems.
Always use sharp and clean secateurs as this ensures the cuts are less likely to become diseased.
Cuts should be close to, but above a bud and should slope away from it, so that water does not collect on the bud.
It's best to feed roses twice a year:

Late-March/April at the beginning of the growing season.
Late July after the first bloom cycle has finished, promoting stronger repeat flowering.
Use organic matter or feed created specifically for roses to get the correct amount of nutrients they need.
Year 1
You may not need to prune during the first year as the rose is becoming established, however it may need a bit of shaping and general TLC.
Year 2
As the rose is starting to mature, cut back all stems by one third. Cut back any particularly long stems to the same length as the rest of your shrub.
Year 3
Your rose should be well established by now, so before pruning, choose from one of the following:
For a taller shrub – cut back by less than one third.
To maintain its current size – cut your rose back by one third.
To reduce its size – cut back by a half or even more. This will reduce the size of the shrub without impacting the amount of flowering.
There is a an English shrub rose included in the English Cottage Garden design version of Border in a Box which smells amazing and is a repeat flowering which means it will have pretty flowers all summer long.
---
Cottage Garden Border Design Kit
Each garden border design kit contains:
Garden design (fully labelled) to know what plant goes where
Plant list including plant care and flowering periods
Tips and ideas to personalise and help you create your gorgeous garden
2x Packet of seeds
Mood board with photos of each plant so you can see how pretty they look together
---
Join The Garden Lovers Club
Sign up to my newsletter to receive a free guide on how to achieve year-round colour in your garden along with top-tips, a monthly offer, and planting ideas to create your perfect outdoor space!