You may be surprised to know you can increase the value of your home by 5-20% by having a nice garden.  I'm not talking about having a 'show garden' but more along the lines of a simple, neat and welcoming space where you and your family can relax.
The average house price in the UK (as of March 2017) was £218,255 – so a nice garden can add between £10,912 – £43,651 to the value of your house.  So a bit of elbow grease, time and money is definitely worth the investment, especially if you're looking to sell your home.
So regardless of whether you're moving house or improving your home here are some ideas to add value:
Kerb appeal: make your entrance pretty and welcoming
Not everyone has the luxury of a spacious front garden, so no matter what size it is, there are always ways of adding some 'kerb appeal' with window boxes and hanging baskets which can be changed easily to each season. Not only do they look pretty but they are great for wildlife and you can take them with you if you move house.
If you're lucky enough to have a sizeable front garden you can make the most of it by painting the fence and adding colourful perennials such as Alchemilla mollis, Salvia nemerosa Caradonna and Roses that repeat flower all summer long. If you have a hedge, keep it trimmed to keep it in shape and looking good.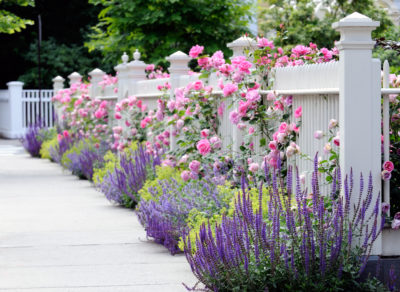 Back garden
According to research by 'House Beautiful' magazine the number one item when prospective buyers are looking around your garden is a decent shed; closely followed by good quality paving /patio and secure fencing.
As a garden designer I always encourage clients to paint their fences, sheds and furniture to make the garden more desirable.  In the photos below you can see for yourself the difference it makes.  Painting will also prolong the life of the wood.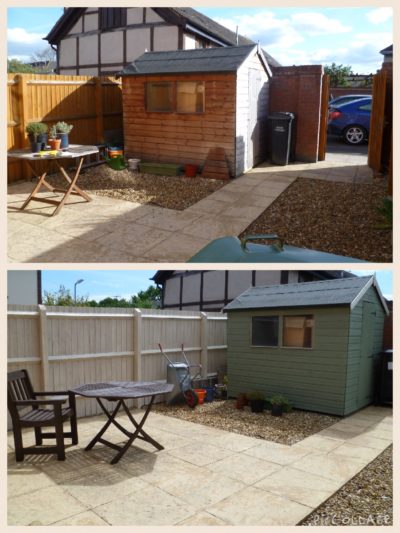 If you need to create a patio, one conundrum is what materials to use when there is a vast choice.  Natural or manmade, paving or decking – it really depends on the style of garden you desire and how you want to integrate it with your home and your budget. This is where a garden designer can add value to your project and create a well thought-out design for you by creating a cohesive plan.
If your garden is quite small, a circular patio can help to create the illusion of space and will feel larger than a square or rectangular design.
Plants to create the WOW factor
Once the structure is in place you can start choosing the plants.  To add value, you don't need to create a show garden, but adding some colour really can give the wow factor. If you don't know what to buy or where to start why not use a ready-made garden kit by www.borderinabox.com.   There are a range of templates to choose from and can help anyone create a beautiful border on a budget.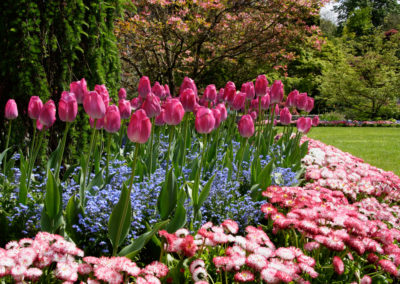 Final touches
The last part of the project is the furniture and lighting.  If you're installing a new patio, it's worth including the lighting at this stage so you can put the cables in the right place ahead of construction thereby saving money. Again there are lots of styles of furniture to choose from so make a list of your requirements, for example, is it for dining, relaxing or dual purpose? Do you want to store it over winter, if so, where?  Alternatively, why not spruce up existing furniture and update it with some paint and new cushions.
For further ideas on how to create a pretty garden on a budget –  https://borderinabox.com/cheap-garden-borders/
And as always, any questions, just ask! [email protected]