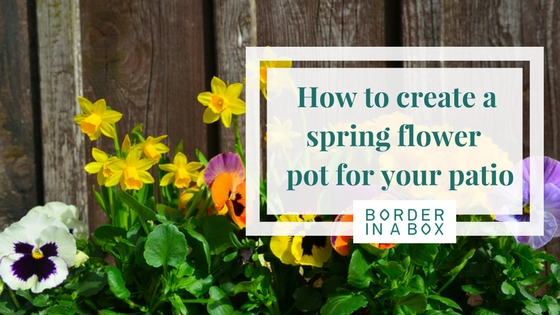 If your garden is looking a bit brown and boring you can easily add some colour with some fabulous spring bulbs, flowers and evergreen shrubs and here's how you can create a pretty pot.
Firstly, a visit to the local garden centre is a must, so you can select some fabulous healthy plants – there are plenty to choose from. Ideally get a mixture of 'in the green' bulbs, cheery bedding plants, an evergreen leafy shrub and a trailing plant such as an ivy.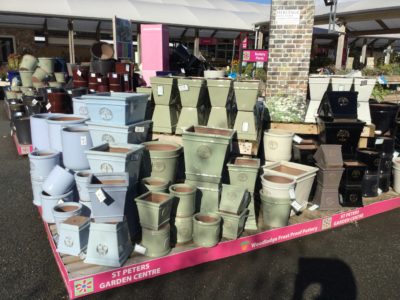 There is a vast array of pots to choose from – many styles, colours and materials, so how do you decide? I've created this blog for more guidance – https://borderinabox.com/container-garden-thrillers-fillers-spillers/
In this example I've chosen a ceramic taupe coloured pot with a blue and white colour scheme, which has lots of texture and a fresh colour scheme.
You can also include some 'in the green' bulbs – you can buy a whole variety of spring bulbs from bluebells to daffodils to tulips.  White tulips will look lovely with this pot and will add height to the design too. Unfortunately it's a bit early in the season for tulips, so I was unable to include them.
Depending on where the pot is going to be located, depends on where to place the plants in the pot. If you're accessing the pot all the way around, then place the 'thriller' in the centre of the pot. If the pot is going against a wall, place the 'thriller' at the back of the pot.
In this example, I've placed the evergreen 'thriller' plant at the back of the pot – this is a Pittosporum which is an evergreen shrub and there are many varieties available.
After filling the base of the pot with broken crocs which aids drainage, add in the compost and then add the Pittosporum making sure the top of the soil is slightly below the top of the ceramic pot. This helps when watering the pot, the water remains in the pot rather than flowing over the sides.
Remove all dead leaves and debris from the surface of the plant as this can contribute to the spread of diseases.
Place remaining plants around the pot.  Backfill with compost, firm in and water. Ta-dah! One pretty spring-time pot ready for the patio, or around the front door.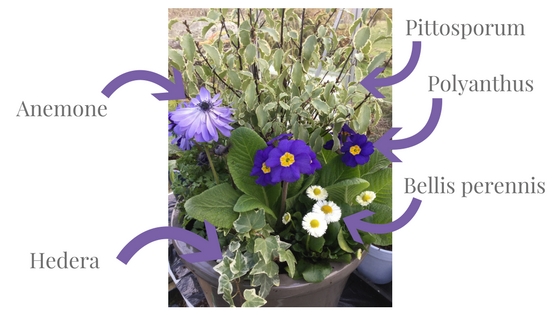 Further reading:
What compost do you need? https://borderinabox.com/compost-soil-types/
Container gardening – https://borderinabox.com/container-garden-thrillers-fillers-spillers/
---
Join The Garden Lovers Club
Sign up to my newsletter and receive my FREE guide on how to achieve year-round colour in your garden along with top-tips, a monthly offer, and planting ideas to create your perfect outdoor space!