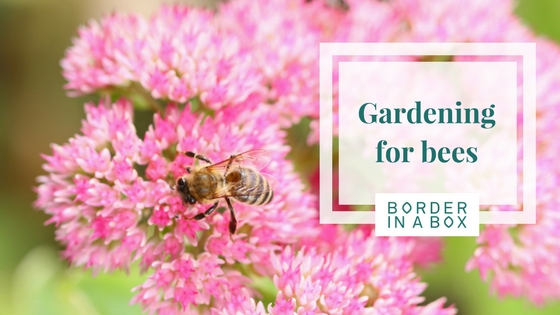 Gardening for bees
Living in a rural area it's easy to take for granted our butterflies & bees and other flying insects. However, I was surprised to learn that urban areas are better for bees because of the greater number of nectar-filled flowers available to them from amenity planting, window boxes, hanging baskets, and tubs. Surrounded by fields is a lovely place for us to live but we could improve it for our bees and plant more flowers.
I met with my local bee keeper, Chris Reynard, to talk about his beehives and how he got started.
Chris has several hives and has been keeping bees for many years and it all started from eating honey! He loved honey and started to research keeping bees himself so after a fact-finding meeting with the local British Bee Keepers Association he very quickly had his own hives and it went from there. Here's what we talked about and how you can help honeybees and other pollinators:
What's in a hive?
A hive has three types of honey bee: a queen, approximately 50,000 female worker bees and, in the summer, hundreds of male drones. The drone bee's primary role is to mate with the queen bee, who can lay up to 2,000 eggs per day. The eggs are laid within the honeycomb. Fertilized eggs will hatch into female worker bees, while unfertilized eggs will become drones or honey bee males. In order for one colony to survive, the queen must lay fertilized eggs to create worker bees, which forage for food and take care of the colony.
Why we need people to plant more flowers
We need people to plant more flowers and trees as this creates more food (forage) for the honey bees. Greater food sources enable honey bees to be much stronger and healthier to ward off disease. It also ensures our plants get pollinated otherwise our plants will start to die out and, ultimately, we will have no food to eat either!

Busy Bees
I always thought the phrase 'busy bees' was just a saying, but bees are amazing and can collect around 20kg of pollen every year – that's 1 million pollen loads at 20mg per trip! No wonder the worker bees keel over and die. Bees will fly around a mile from their hive to collect pollen, water, and nectar.
Honey bees don't venture outside if it's below 8 degrees, or if it's raining. During the winter they congregate together to keep warm and will only leave the hive to get food or toilet breaks.
Bee facts
Bees can fly at incredible speeds – around 15-20mph when leaving the hive and that reduces to 12mph when they are carrying food and water.
They have three pairs of legs, so six legs in total. However, the rear pair is specially designed with stiff hairs to store pollen to take back to the hive.
They have four wings in total. The front and rear wings hook together to form one big pair of wings and unhook for easy folding when not flying.
Here is a great fact for pub quizzers – the honey bee has FIVE eyes, two large compound eyes and three smaller ocelli eyes in the centre of its head. Bees are amazing!

What flowers should we plant to help them?
Bees' don't hibernate so it's important to provide year-round food for them. During winter months they love snowdrops, crocus, ivy, and hellebores (honey made from ivy doesn't taste good apparently!). During spring and summer months bees love open flowers such as sedum, echinacea, and cosmos. I include cosmos in every Border in a Box.
It's also a good idea to create a water source for them too – keep a shallow dish of water with pebbles in it, this enables the bees to land easily and not drown.
If you would like to know more about bee keeping contact the British Bee keepers Association you can even sponsor a beehive too. https://www.bbka.org.uk/
To make life easier, I've created a 'Butterflies & Bees' version of Border in a Box – all the plants used in this design are RHS approved for pollinators, so no more wondering what plants to buy and what looks good together. This is not a wild flower design. The Box contains an easy-to-follow planting plan, showing you what plants go where. A plant list which details flowering times, a photo and care information. Two packets of seeds to scatter in-between the plants and also tips and ideas on how to make the most of your garden. It also makes a great gift.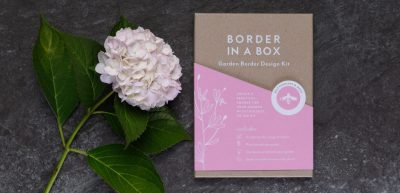 Further blogs to read:
---
Join The Garden Lovers Club
Sign up to my newsletter and receive my FREE guide on how to achieve year-round colour in your garden along with top-tips, a monthly offer, and planting ideas to create your perfect outdoor space!