I was genuinely shocked when I read this article in The Telegraph – https://www.telegraph.co.uk/news/2017/11/30/women-garden-designers-smash-chelsea-flower-shows-grass-ceiling/ – written by Victoria Ward with the headline of "Women garden designers smash Chelsea Flower Show's 'grass ceiling'" – we're in 2017 so this shouldn't be unusual and making headlines. But sadly it is.
Thankfully I've met some fabulous women in horticulture in the last few years and they have some inspiring stories to share.  We may not be curing cancer but we are adding colour to people's lives and gardening is great for your mental health and well-being.
So to celebrate International Women's Day I would like to introduce my inspirational & wonderful friends – Charlie, Pip and Elly who I've met through our shared passion of gardens.
Charlie Bloom
Charlie lives in the south-east and we met at Hampton Court Flower Show in 2015 – I was volunteering on the neighbouring show garden and we got talking and have become good friends.  I asked Charlie how she got into garden design and she told me that after spending 4 years working in a stockbroker with a daily commute she decided to take the plunge and follow her heart and dearest passion… no not gardens, but dressage. After a brief baptism of fire into the competitive dressage world she realised she wanted to be outside in nature and without the dictatorship of a mad boss (we can all relate to that!).
She went on to learn the trade of Head Gardener, achieving The Royal Horticultural Society (RHS) Advanced Certificate in Horticulture which she studied via an evening course. After her first year of being self-employed she had the mad idea of submitting a design for RHS Hampton Court and was rejected twice and diverted to Gardeners' World Live. With very little knowledge, no financial sponsorship and a team of non-horticultural friends she managed to pull off two National level Show Gardens and was then accepted to Hampton Court on her 4th attempt.  Charlie's motto is "if you don't succeed, try, try again, take a leap of faith and a risk and it will pay off eventually". She now has 4 RHS medals and is exhibiting another Show Garden at Hampton Court Flower Show this year, made up of a cooperative of trades, instead of corporate sponsorship.
Here's Charlies' garden 'The Colour Box' at Hampton Court Flower Show 2017
You can contact Charlie Bloom – www.charliebloomsgardendesigns.co.uk or Twitter @bloomsblogs. Or meet Charlie at her show garden at Hampton Court 3-8th July – https://www.rhs.org.uk/shows-events/rhs-hampton-court-palace-flower-show
Pip Probert
I first met Pip Probert when she created her show garden at RHS Malvern in 2015 and is a multi-award winning garden designer with many years of experience in design, build and planting works.
Pip is a natural – she got into design when she was young and thrived on project work, thoroughly enjoying the research and the presentation side and obviously drawing the pictures regardless of the subject matter! Although Pip loves designing she felt that it would be hard to stand out amongst all the other graphic design students so with a love of plants and copying photographs that her dad had taken whilst on family garden days out, she felt there was a connection with Garden Design.
Pip says "Garden design is a passion and something I'm very proud of.  There is always room for improvement and I hope to be constantly learning and improving on my skills for the rest of my career".
She went on to say "there is so much more involved to designing a garden – you need to be an expert on a lot of different things from materials to practicality in the construction of your ideas.  Garden Design is job for someone willing to learn, put the hours in and be involved in every aspect of a project".
I love Pip's style and her planting combinations – here's some of her work which will hopefully inspire you too.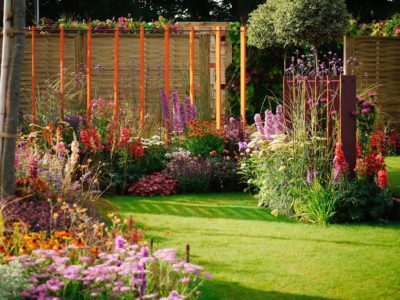 Here's Pips illustration of her show garden at Ascot Spring Garden Show 13-15th April 2018, sponsored by Yardley – https://www.ascot.co.uk/spring-garden-show/show-gardens

You can contact Pip via Facebook https://www.facebook.com/pipprobertgardendesigner/ or her website – http://www.outerspacesgardens.com
Eleanor West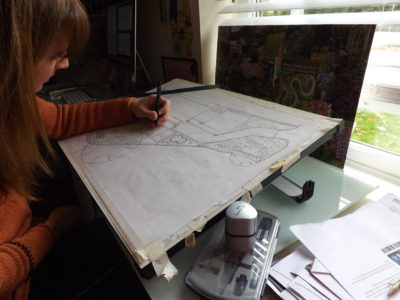 Elly and I met studying garden design at college together – here's her story:
"My career as a garden designer began a few years ago, when personal circumstances led to a house move and desire for a job that was flexible and could fit around my two young children. I had a background in horticulture and design, having worked at BBC Gardeners' World Magazine in a previous, pre-children life, plus a passion for plants and planting. Retraining as a garden designer made perfect sense, and has been the ideal job for me in that I can work hours that suit my lifestyle. Anyone can start their own business, and there's nothing distinctly female about being a garden designer, but on International Women's Day, I'll go with the idea that perhaps I do bring a woman's touch to the job. I'm always sensitive to a clients' needs and have good attention to detail. I'm also well-organised and conscientious. Chatting to other mums at the school gate, jobs that are school hours with the option to work from home are like gold dust, so I do feel extremely fortunate that this new career has blossomed into something I love, and that still allows me to be there when the children need me".
Visit http://www.ellyswellies.co.uk to find out more about Elly's work.
Nikki Hollier (that's me!)
I became a garden designer after suffering from stress a few years ago and the garden was the only place I could gain any peace. I had no clue what I was doing, so I enrolled on a course in horticulture at the local college. I never intended that it would change my life so dramatically – I left my 20 year career in IT and retrained as a garden designer.
I had to move house again which was a 'new build' and although I had studied horticulture the course didn't include much design work so I enrolled on a further garden design course which finished in November 2015. Three weeks later I submitted my application and designs to RHS Malvern Spring Show. I got accepted and built my garden in May 2016 and won a Silver Medal and the People's Choice Award. Not bad for a newbie!
These events inspired my business Border in a Box.  Living in a new build property with a blank canvas garden I felt there were many people in a similar situation who probably wanted a nice garden but didn't know where to start and on a tight budget. I've created these 'purse friendly' kits to help people achieve a gorgeous garden easily and in less than a day. Available from www.borderinabox.com, Not On The High Street and Amazon.
Here's my illustration for the garden border I will create at Gardeners' World Live at the NEC in June.  https://www.bbcgardenersworldlive.com/visit/ticket-information
So if you've been dreaming of another life, whether it's running your own B&B by the seaside, making the best tasting gin or becoming a garden designer just do it. If you want to stick your toe in the water and shadow an expert in your chosen field check out https://www.viewvo.com/ for advice. There will be many stories about amazing women on International Women's Day – so lap up the good energies and get inspired to follow your heart.
---
Join The Garden Lovers Club
Sign up to my newsletter to receive a free guide on how to achieve year-round colour in your garden along with top-tips, a monthly offer, and planting ideas to create your perfect outdoor space!