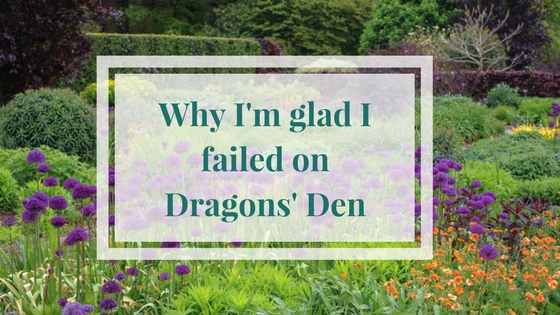 It all started when I was tremendously busy finalising the launch of Border in a Box on Amazon when an email arrived asking me to apply for Dragons Den. I looked at the senders' details and thought that doesn't look right, and a quick search on the internet came up with nothing. Gut feel was right, it was spam. In any case, why or how did they find a little unknown business like mine?
A few days later, they contacted me again and seemed quite put out that I had ignored them, after all isn't it every entrepreneurs hope to find the Golden Ticket to the big time? I then realised the enquiry was genuine, so I replied with a humble 'hello' and 'sorry'!
They asked me to complete an initial application form, which they said would only take 15 minutes to do. Easy! However, after working for yourself you realise that any job takes a million times longer than you ever expect it to. The application took all day.
I emailed it back, never expecting to hear from them again. I wasn't looking for investment, but I would have jumped at the opportunity to gain mentoring from a Dragon, especially a retailer, as I was fumbling my way through it all, learning as I went.
I was completely thrown when they rang back and invited me to an audition. I was in a complete daze and was sworn to secrecy, so I couldn't tell anyone about this amazing opportunity.
The following few days turned into a complete whirlwind of activity due to the short timescales for filming the next series.
I was asked to bring an up-to-date business plan and prepare my pitch as if I was in front of the Dragons. Simple! I literally had five days to complete everything and prepare myself for the event. I was so far out of my comfort zone, it was scary. I hate having my photo taken, so to be filmed was off the Richter scale in terms of anxiety. But it was equally mega exciting as the possible outcome of this opportunity could be life changing!
The day of the audition quickly arrived. I was feeling sick to my stomach with excitement and nerves. I got on the train and re- read my business plan and pitch notes over and over, with nothing really going in, my mind was a blur.
I arrived at the BBC – the moment of truth arrived and the show researcher showed me into a stark, windowless office. I expected to go over my business plan and have a general conversation about everything, but no, there was a brief introduction to what was going to happen next and then I was in front of the camera presenting my pitch. I got tongue-tied a few times, but my presentation was completed quickly.
I felt more at ease once it was 'in the can' and then they said they wanted to know more about me as a person and wanted to film it too. Quick quick think of something interesting to tell them… errrm, errrm, my brain went dead. I couldn't think of anything and then after what felt like an amazingly long time I opened my mouth and said "I live with my Mum and Dad and their cat…" Oh, my word, I'm cringing whilst reliving the moment. How embarrassing was that – it's probably the dullest thing to say. I just wanted to crawl into a hole and stay there. The worst thing was I didn't elaborate and say it was only until I buy my new home.
I didn't make it onto the show. All that hard work, sleepless nights, and stress was over in one fell swoop. However, I did find out how they found me, and it was due to spotting a photo of me and Alan Titchmarsh on my website – they were researching horticultural products which meant the internet search was working fine.
However, hindsight is a great thing and I'm so glad I fluffed the audition and here's why:
Going into depth on the business plan made me realise that I knew more than I gave myself credit for. Creating a product from an idea and turning it into a physical thing takes a massive investment of energy, passion and belief and I'm really proud of what I've achieved in a short space of time.
Although it was a big fat NO, it certainly wasn't the end but a bump in the road, and I knew there would be other opportunities around the corner, after all Alan Titchmarsh thought it was a great idea and gave me some tips on how to improve the product.
There were no guarantees of success by working with a Dragon – and I've gone on to receive an award of 'Garden Product' of the year by Country Homes & Interiors magazine. Part of the prize is mentoring by the owner of Garden Trading, who is amazing and he has already added value to help me move my business forward without taking a percentage of my company.
My moto is Rome wasn't built in a day! There are plenty of entrepreneurs who have had doors slammed in their face but have gone onto greater things – it's about tenacity, perseverance and timing. Hearing a 'no' just makes me want to prove them all wrong.
I was given these stats: In the last series there were 24 entrepreneurs who accepted offers of investment in the Den and a combined total of over £1.5 million invested by the Dragons. Additionally, plenty more achieved success after taking on board the advice they received from the Dragons.
There were no stats about the ones who were rejected and what they did next but I'm sure some of them were successful – prime example is Trunki and It's just an entertaining TV program at the end of the day.
Follow me on Facebook & Twitter – @borderinabox
Border in a Box is a series of garden border templates to help anyone new to gardening or short on time the information needed to produce a beautiful border without the designer price tag.
They are available from my on-line shop, www.borderinabox.com