If you want to create a garden where you don't have to spend time watering and weeding it, then a gravel garden is a good option.
Many people think a gravel garden can be unattractive and boring, but with the right hard and soft landscaping, you can achieve a pretty and low maintenance space.  Here are three things to consider when planning your new garden.
1. Hard landscaping:
You'll probably want to create a patio and pathway around the garden and there are so many types and sizes of paving to choose from which can be overwhelming so always get a sample of each option from the supplier and take it home as it will look different from when you're in the store. By adding large stones or pots in the border it helps to decrease the water needed and can create an interesting focal point. These stones can even store moisture in the ground beneath them that the plants around them can access when they need it.
2. Gravel:
this is the surface dressing which helps shade the soil and keeps it cool which prevents it from drying out as fast after rain or watering and this allows more water to go into the ground for later use.  There are many types of gravel and decorative chippings available – make sure they complement the paving and plants. If you have cats it would be best to use larger size gravel to deter them from using it as their loo! Although gravel is great for suppressing weeds, it's still advisable to lay landscaping fabric beforehand. It's also a good idea to add a layer of gravel to the top of any containers, as not only it hides the soil and is more decorative, but it also reduces the amount of water evaporating in hot weather.  Here's a photo of various types of gravel available at a local garden centre – as you can see there is plenty of choice from colour, shape and size.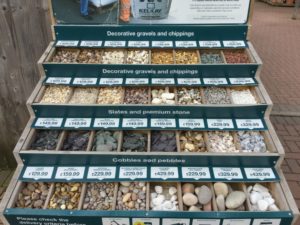 3. The Perfect Plants:
There are many plants available that are well suited to dry, drought like conditions. As a general rule of thumb choose plants with the following attributes
Small leaf – such as Verbena bonariensis
Silver leaf – Lavender
Thick leaf – Sedum
Hairy leaf – Stachys byzantine commonly known as lambs ears which are so soft and tactile.
To have a successful xeriscape, you must choose plants that can be maintained at very low levels of watering. The idea is to have the garden thriving on rainfall alone with only an occasional watering in very dry periods. Less watering also means less cost to you and the environment.
If you would like me to design a low maintenance garden just for you, my bespoke garden design can include a design and planting plan suitable for your space.  More information is available on my website https://borderinabox.com/bespoke/ or please send an email to [email protected] and I'd be delighted to help.