I've known Stacey for a while, I think we first met on Twitter, but quickly realised we both studied at the same college.  We then met in person when Stacey created her first show garden at RHS Malvern in 2015 where she won a Silver Medal which is brilliant!  So Stacey, what are your top three favourite plants and why?
It has been unbelievably tricky trying to whittle down a plant list the length of my studio to just three plants I could not live without. There are so many fabulous plants out there. I've a good set of ever faithful's I use when designing which crossover well with many of my projects usually being at opposite ends of the design style spectrum.
I've decided to stick with the plants I personally would not be without and even that had me umm'ing and ahh'ing but my first has to be:
Fragaria vesca
I couldn't be without wild strawberries in my garden. They are perfect for ground cover and filling in gaps that appear around the edges of borders and containers. From their gorgeously green toothed leaflets appear flower spikes, with tiny five petaled white flowers and yellow centers, in late spring which develop into natural red sweet treats. There is something that says quintessentially 'English garden' about them and wherever I can I sneak them into my designs.
In a previous life, before becoming a garden designer, I worked as an R&D Technologist for a soft fruit company, running trials and raising thousands of plants from seed in search for the ultimate strawberry fruit. It's where I discovered my passion for working with plants so I have quite a soft spot for them.
Dryopteris erythrosora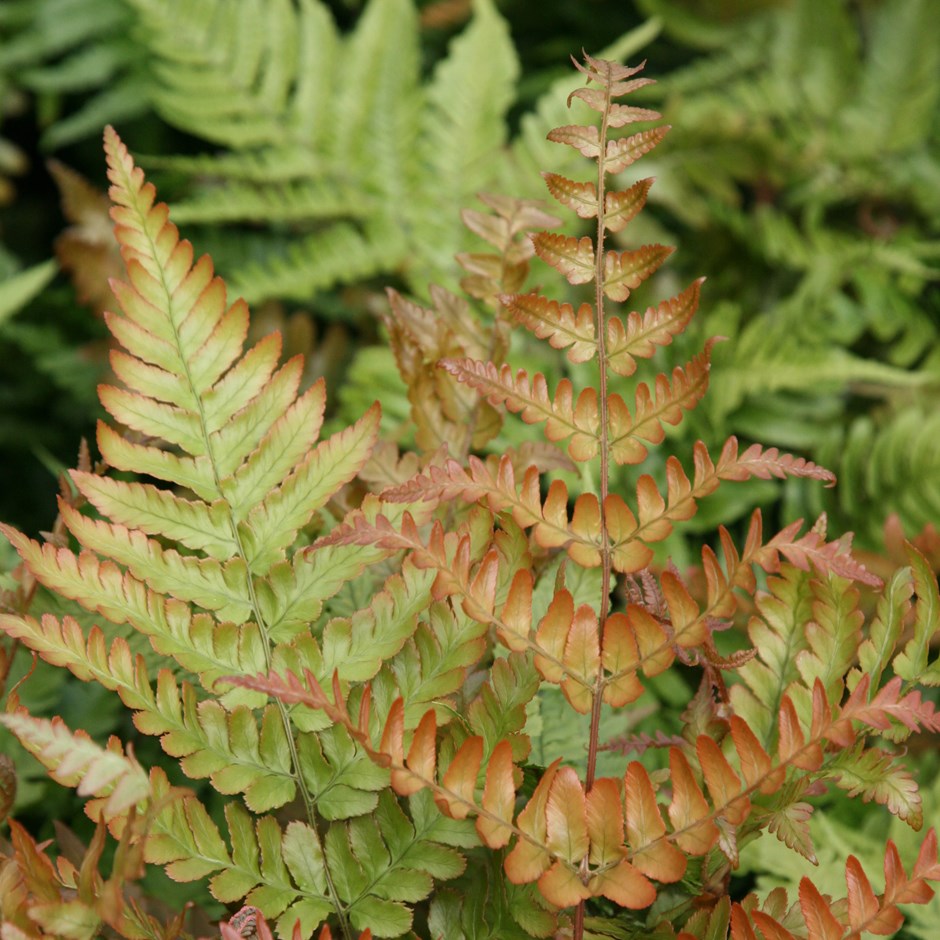 Ferns are another plant I will slip into a design whenever I can as I'm a tad obsessed with them. They are a superb low-maintenance plant which will bring interest to any shady border. They come in a huge variety of shapes and sizes from tiny specimens which will grow within cracks and walls to huge sculptural varieties such as tree ferns which can grow up to 6m.
Dryopteris erythrosora, commonly known as the Japanese shield fern, is a semi-evergreen medium-sized fern growing to roughly 0.75m tall. It produces reddish coppery new fronds throughout the growing season. These stunning triangular-shaped fronds unfurl and slowly mature to a rich green. Perfect nestled in woodland style borders providing a lush backdrop for Spring bulbs and a great companion for Lamprocapnos spectabilis 'Valentine'.
Iris 'Kent Pride'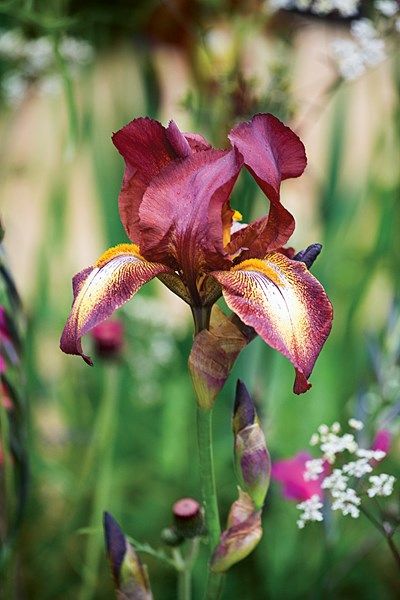 My final choice has to be the sun adoring show stopper that is Iris 'Kent Pride'. It was tempting to stay with the woodland theme as I do love Digitalis, Tiarellas and many woodland bulbs. However, I could not own a garden without finding a spot for this magnificent bearded Iris.
This fabulous variety produces rich purple buds which open into scented flowers with velvet mahogany-copper toned standards and falls featuring cream-yellow centres with rich yellow-gold beards. Their teal grey leaves are purple stained at their bases and sit beautifully amongst grass borders.
They featured in my first show garden as a last-minute replacement plant in 2015 and I wouldn't be without them now.
Thank you so much for your blog Stacey, I'm definitely going to try growing Iris's with my ferns – they'll look fabulous together.  If you would like to know more about Stacey, here's her bio
Stacey is a garden designer currently based in Herefordshire. With her passion for art and love of plants she endeavours to transform any space into an exclusive haven for her clients which perfectly suits their needs and personalities as well as relating comfortably to their home and the surrounding landscape.
Soon after completing a Fine Art BA(Hons) degree she discovered a true passion for working with plants owing to working as an R&D Technologist for a soft fruit producer. Following some years of growing strawberries and raspberries she decided to combine both her love of art and passion for plants together and embark on a Professional Garden Design Diploma.
She graduated with commendation and not before being awarded an RHS Silver Medal for her first show garden in support of Marie Curie at the RHS Malvern Spring Festival 2015.
She now currently divides her time between building up her design practice and designing planted containers and Christmas wreaths for the garden retail market.
https://staceykathgardendesign.com/