Autumn is a great time to plant bare-root roses and other deciduous shrubs and ornamental trees but how do you choose the right shrubs to create a hedge?
There are hundreds of varieties to choose from, so have a think about what you want the hedge for – is it just to form a boundary line or act as a wind-breaker, provide security and privacy or hide an eyesore? The next thing to think about is whether you want an evergreen or deciduous hedge and how tall and wide do you want it to be. Then the location and soil conditions need to be taken into consideration along with maintenance.  There is so much to think about and when I'm planning a garden I always take the aesthetics into consideration too as it needs to look good and provide shelter for our birds.
So with all these thoughts buzzing around in your brain where do you start? Here are a few ideas for you – let's start with evergreens.
Evergreens provide shelter or privacy all year round; however, they do tend to need more maintenance than a deciduous hedge and will need to be pruned annually, ideally twice a year. If you choose a Conifer, make sure you maintain them as once they become overgrown they can't be restored.
Deciduous plants also make great hedges; especially a beech hedge over winter holding onto its brown leaves is very pretty. You won't get the same privacy with a deciduous hedge as you do with an evergreen but the advantage of a deciduous hedge is that it will filter wind in winter. They are also more forgiving with pruning, and although they should be trimmed in late summer, if you miss a year or two they can be renovated.
Here's 5 shrubs suitable for hedging:
Ligustrum ovolifolium variegate
Commonly known as golden privet.  It's happy in any moist soil that is well drained in full sun or part shade.  It has a bushy habit, evergreen and grows to 4m tall and 4m wide.
Prunus lusitanica
Commonly known as Portuguese Laurel. This is another bushy evergreen shrub that likes any moist but well drained soil in full sun or part shade, however, this one grows to 12m tall by 8m wide, so it's important to keep it well pruned. I also like to use this plant in flower arranging as it has a really lovely red stem and it has a fragrant small white flower in the spring.
Syringa meyeri 'Palibin'
It's a bushy, slow-growing deciduous shrub that likes full sun and has fragrant lilac flowers in the spring. It's happy in any moist but well drained soil. It grows to 1.5m tall by 1.5m wide, so it's well suited to a smaller garden.
Ilex × meserveae Blue Prince = 'Conablu'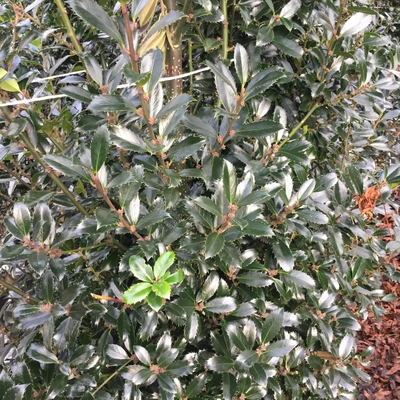 commonly known as Blue Holly. It's a great shrub to use for creating security.  It's happy in any soil as long as it's moist and well drained. It's evergreen and likes full sun and part shade. It grows to 4m tall and 4m wide, so it needs to be well maintained.  I love the blue leaves, they're really striking. The photo is of Ilex Heckenfee which looks similar.
If you're looking to provide a border between garden 'rooms' for example, how about a beautiful rose hedge.
Rosa Olivia Rose Austin
This one is particularly stunning from David Austin Roses and is the Rosa Olivia Rose Austin. It smells amazing when in bloom and has gorgeous big soft pink flowers which repeat all summer long. It grows to around 1m tall and 90cm wide and likes full sun and a moist but well drained soil.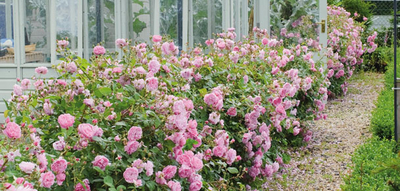 There are so many to choose from, but these will provide you with a broad selection however, if you would like a more comprehensive list, here's one from the RHS  https://www.rhs.org.uk/advice/profile?PID=351 but please note, some of the links go to different plants.
You can buy hedging plants in 'whips' which are usually the most cost effective way to create a hedge as they are juvenile plants, however, if you need to create a boundary quickly you can buy ready made hedges from Readyhedge http://readyhedgeltd.com/ who have a fabulous choice of hedging plants and they are really knowledgeable too, so I'm confident you will be able to choose a fabulous hedge for your garden.  They specialise in instant hedging and screening, so you can buy your chosen hedge in 1m x 1m lengths (other sizes available).  Readyhedge provided the hedge for my show garden – a Portuguese Laurel along with the box balls, which I love.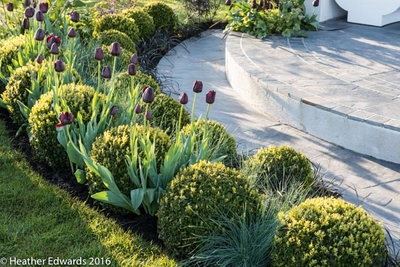 If you would like help choosing the right hedge for you, please contact me for a design consultation https://www.borderinabox.com/bespoke