I remember it vividly, it was the 4th of May 2016 and I was watering my show garden at the RHS Malvern Spring Festival. Alan Titchmarsh was walking hurriedly past me with James Alexander-Sinclair, a fellow TV garden designer and (as I had found out the day before) one of the show garden judges. (I had rather embarrassed myself when I had asked James if he was there filming for TV – he looked horrified – and I realised he was one of the RHS judges and was going to be judging my garden! Oops, as we're not allowed to talk with the judges until after the awards!). However, all was well with Alan (not one of the judges!) and we exchanged cheeky pleasantries and Alan said he would be back the next day.
So, early the following morning, Alan returned to see my garden and I was completely tongue-tied. There were so many people gathered around, nevertheless he came and sat on my fabulous seating (supplied by Sui Generis) and had a chat. I've no idea what he said as I was completely in shock! Fortunately, Alan is just like he is on tv – so down to earth and very easy to talk to. He spotted the wire, life-size sheep sculptures which part of my garden and we talked about these. He seemed to love them as much as I did – in fact, they were featured on Gardeners' World on TV that week as part of their coverage of the show.
Then off Alan went, followed by an entourage of on-lookers and RHS people and I carried on with my day.
Early afternoon came and I was summoned to the RHS office – I was terrified, thinking the worst, and had palpitations wondering what was going to happen. I sat there waiting and then got called to the main auditorium – I was still completely baffled as to what was going on. I could see Alan and James were on stage entertaining the audience with their funny stories.
And then the best thing happened – I got called on stage and presented with the 'Peoples' Choice Award' for my show garden. I was in shock – my garden had been voted for by the public – that was the icing on the cake. I had only completed my garden design course a few months before and here I was getting an award for my first show garden. WOW!
The show ended a few days later and I was contacted by the sculptor of the sheep. He told me Alan had been in touch and loved the sheep so much he wanted to buy some for his garden. To cut a long story short, Alan purchased the sheep from my show garden which meant I had the opportunity to deliver them to his home and see his own garden. I was so excited to have a look around his garden.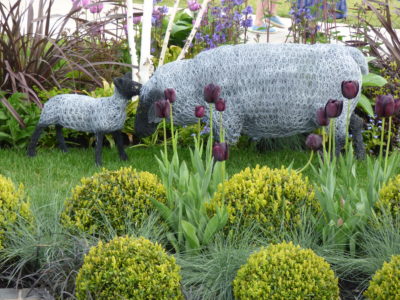 As you can imagine, Alan's garden is absolutely stunning – I loved it. It was full of my favourite plants such as Delphiniums and gorgeous pale pink rambling roses.
Alan made me a cuppa, which was surreal, but it gave me the opportunity to talk about my business idea, Border in a Box, and I showed him my prototype. We discussed everything, from the concept (which he loved) to the contents of the box, styling, packaging, pricing etc. It was amazing that an expert like Alan gave his valuable time to a start-up business and offered such insight and support. I am so grateful and thankful.
Our meeting gave me a lot to think about and a few weeks later I met with a branding expert at a PR event I was at. I discussed my ideas and that was the starting point for turning my concept of 'garden design in a box', to help garden novices create a beautiful garden without the designer price tag, into reality and for it to become a physical product. The following six months was a complete whirlwind of busy-ness, creating new content for the box, new branding, and new packaging, which enabled me to launch the first 5 Border in a Box products in March 2017, on Amazon and on my website. I was so proud of the whole 'journey' and none of it would have happened without that initial meeting with Alan.
Meeting Alan and his time, insight, and encouragement came at just the right time and spurred me on to turn my fledgling idea into a business and a whole new life – I was never to return to my old career of IT. I'm so grateful for the time Alan gave me.
And if you don't already know it, here is Alan's impressive biography.
Alan Titchmarsh biography:
Alan Titchmarsh was born and brought up on the edge of Ilkley Moor. He left school at fifteen and became an apprentice gardener in the local nursery, following this with full-time training at horticultural college and then at the Royal Botanic Gardens, Kew.
Alan was the main presenter of Gardeners' World and the hugely popular, Ground Force. He has also presented How To Be A Gardener, British Isles – A Natural History, The Great British Village Show, The Nature of Britain. His own daytime show on ITV, The Alan Titchmarsh Show, featured a combination of music, the arts and conversation, and ran for eight years. He also presents his own radio show on Classic FM on Saturday mornings. This year we saw Alan's new show for ITV, Masterpiece, as well as the sixth series of Love Your Garden, ITV.
Alan writes regularly in BBC Gardeners' World Magazine and Country Life, is gardening correspondent of The Daily Express and The Sunday Express, and also writes in The Sunday Telegraph. Alan has written more than 50 gardening books, a Christmas anthology, nine novels, four volumes of memoirs, and a miscellany celebrating England and Englishness.
In 1997, Alan was named 'Yorkshire Man of the Year'. He was appointed MBE in the 2000 New Year Honours List, and a Deputy Lieutenant of the County of Hampshire in 2001, when he was also immortalised by Madame Tussaud's. In 2004, he received the Victoria Medal of Honour, the highest accolade in the British gardening world and, in 2009, he was made a Vice-President of the Royal Horticultural Society. He is patron or president of over 50 charities.
Alan lives in Hampshire, and the Isle of Wight, with his wife in an old farmhouse with a four-acre garden.
Here's the video of my show garden build which was called Hidden Gems of Worcestershire.
Further reading:
I'm creating a show garden border at Gardeners' World Live in June 2018 – the border design will be available to purchase in June and is called 'Wellbeing', which makes a great gift too. Alan will be at Gardeners' World on Friday 15th June.
Designing a show garden border at Gardener's World Live 2018
If you would like to win a pair of tickets to Gardeners' World Live 2018, simply sign up to my Garden Lovers Club:
---
Join my Garden Lovers Club
Sign up to my newsletter to receive top-tips, my monthly offer, and planting ideas to create your perfect outdoor space!