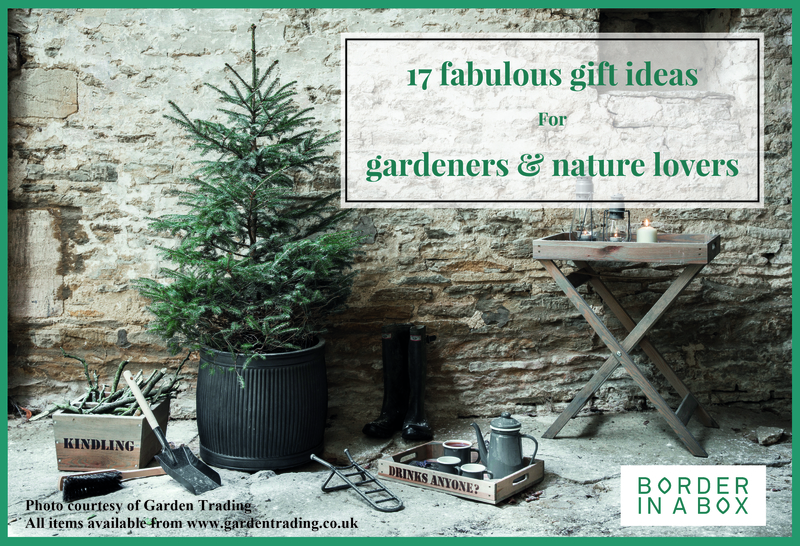 According to Andy Williams who sang "It's the most wonderful time of the year, there'll be much mistltoeing, and hearts will be glowing, when love ones are near…. But what do you buy for your favourite gardeners and nature lovers?  Fear not, I've brought all my horticultural friends together to create this rather handy gift guide to help you choose some fabulous gifts for the special people in your life.
To make it really simple, I've included links to their website so you can buy online, so feel free to have a mooch around their shops from the comfort of your armchair to see what beautiful items they have to offer. I've included gifts from across a broad spectrum such as garden design kits, homewares, workshops, books, bird care and plants – something for everyone and with purse friendly prices.
1. Butterflies & Bees garden design template kit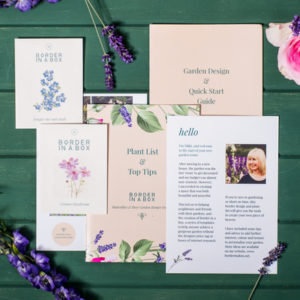 Border in a Box garden design template kits – there's a choice of 7 designs to choose from, but this version has been created specifically with plants that attract Butterflies & Bees. Each kit contains a garden border template that measures 3m x1m but can be easily adapted. A mood board and a plant list which details information about each plant in the design.  Also included are two packets of seeds plus top-tips to help you personalise your garden. Each kit costs £24.99 inc P&P and is available from www.borderinabox.com/shop. It makes a great gift for non-green fingered people but who still want a pretty garden.
2. Designer tulips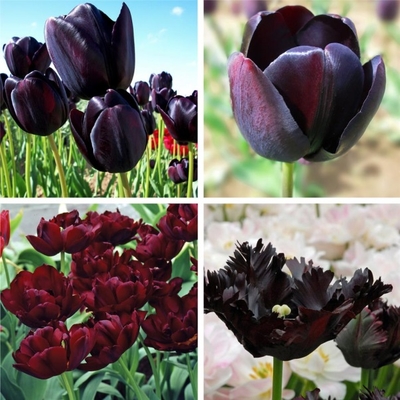 I love these as they're such an eye-catching collection of tulip bulbs that can be used in the garden border or containers. With a difference in shapes, sizes and heights, this collection is perfectly paired with light coloured tulips and looks great in large drifts. Included are 10 of each design: 'Black Parrot', 'Paul Scherer', 'Queen of Night' and 'Uncle Tom' and costs £19.99.  If you would like a free bulb list so you can create year round colour in your garden, send an email to [email protected] and I'll send you the chart by return.
These bulbs are available to buy from https://www.gardens2you.co.uk/product/rich-dark-tulip-collection-40-bulbs/ and can be planted up until Christmas/New Year or before the ground is frozen.
If you prefer a bit of indoor gardening then these bulbs are very glamorous!
3. Amazing Amaryllis
Christmas wouldn't be Christmas without a traditional Amaryllis – here's a stunning gift from Hayloft Plants, in either white or red, which has impressive trumpet flowers with either a white, red or gold bauble shaped pots – they cost £30 + PP for 2 plant baubles www.hayloft-plants.co.uk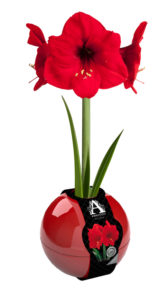 4. Christmas poo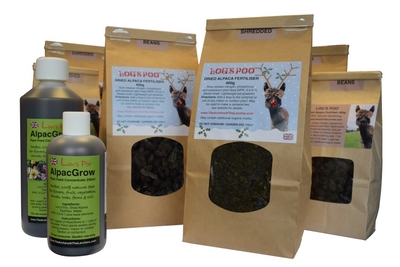 What? Yes, you read that right!
Every plant needs nourishment and there's nothing better than using alpaca fertiliser as a general, slow-release feed. Lou's Poo is a range of British smallholder-made natural alpaca fertilisers. Good for indoor or outdoor plants including pots & containers. It's clean and smells great. This fertiliser is used by commercial growers, flower farmers and gardeners alike. They have a limited edition Christmas Gift bag available now which makes a hilarious gift for any gardener – 20 feeds for £9.99 and you can see the handsome herd here www.thearchersatthelarches.com.
Alpacas have soft luxurious fleeces which Lou creates hypoallergenic and organic bedding from – this is certainly on my list as it sounds so comfy!
Talking of our fury friends how about a bit of pampering for them with these lovely items
5. Presents for pets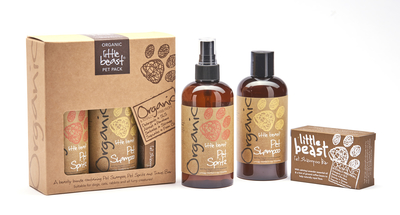 This 'Little Beast' pack costs £26.99 and is available from www.littlesoapcompany.co.uk – all the products are made in the Cotswolds and are not only organic, but are free from all sorts of parabans, so are perfect for our pets and their hoomans! You can also buy Little Soap Company products from supermarkets and they're well loved in our household, especially the Rose & Geranium bars of soap.
6. Pet bowl
Who wants a plastic pet bowl when you can have a super stylish dish made by the talented Laura Jayne Fisk in Suffolk – I love Laura's designs and this one is really cute! It costs £23 and is available from www.laurajaynefisk.co.uk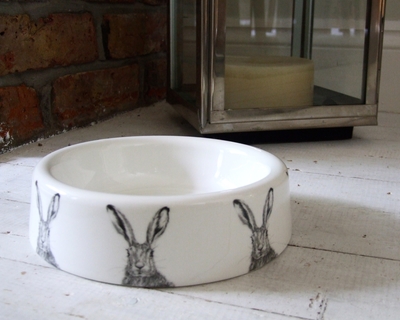 Plus, if you want to be super cute and match your own mug to drink your morning cuppa out of, you can with these adorable items which start at £10.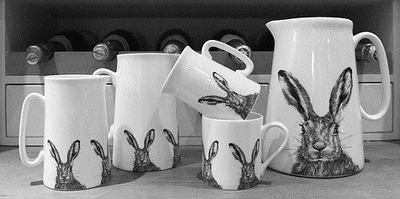 7. Classic cake tin
As everyone knows, elevenses are an important part of the day and you always need cake to go with a cuppa, so for a touch of luxury how about this classic cake tin from Garden Trading in charcoal steel –www.gardentrading.co.uk and costs £22, remember to fill it with the recipients favourites before handing over! I could just eat that cake right now!
8. Stylish home-wares
What a great way to welcome guests to your home, a lovely star designed door mat and it's made of hard-wearing coir so it will withstand Santa and his herd of reindeer! Available in two sizes from www.gardentrading.co.uk and costs from £12 for the small version.
9. Works of art
If you're partial to a botanical print then you'll love these from the talented Georgie St Clair, which cost from £60 for a set of three, however, my favourite are her botanical and floral letters, although I do admire everything Georgie creates! www.georgiestclair.com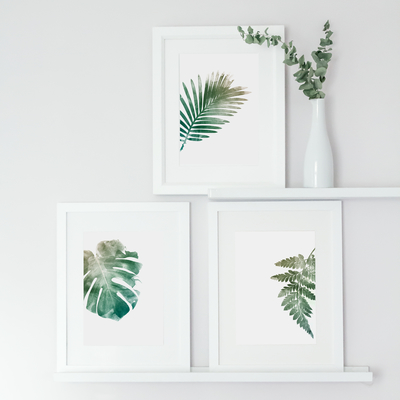 10. Animal art
I adore Sam's cows – this is Mrs Mac and is a limited edition print and costs from £195, but if you prefer a fun cow, Sam paints those too and sells originals, prints, gifts and pet portraits. https://www.samantha-morris.com/collections. I've got a few of her cowsters which always make me smile!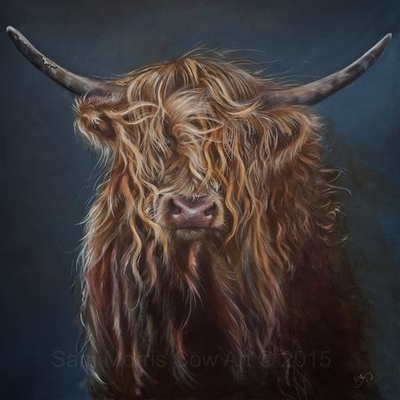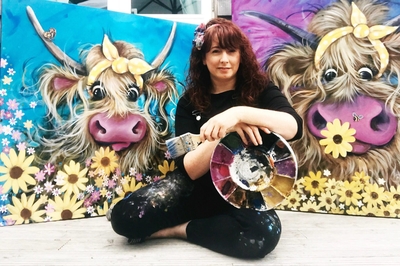 11. Luxury bird food
It's so important to take care of our wildlife and one way you can help our feathered friends is to subscribe to Boxwild, who create luxury bird food – this particular gift box contains: Boxwild Blend, Songbird Blend and All Season's Blend with a bird feeder along with a fruit feeder and a seed scoop. This makes the ideal gift for a bird lover and costs £28 inc P&P. https://www.boxwild.com/products/bird-feeder-gift-box
If you're unsure what to buy for the person who has everything, you could buy a day out at a craft workshop, and if you're not sure which one they would prefer then you could always get a gift voucher, so the recipient could choose and you could have a fab day out together.  Here's a few options for you…
12. Basket weaving, soap making, plus many more craft workshops
Basket weaving, candle & soap making, stained glass, silver rings and bangle making are just some of the many workshops to choose from at Three Little Pigs http://www.threelittlepigs.eu/ in Worcestershire and cost from £65 including lunch, which is great value for money and in a really lovely relaxed setting too. You can also learn how to do needle-felting, festive cake decorating and folk art painting before Christmas, which sounds a really relaxing and fun day out.
13. Learn to embroider
Julie Brand from Tigley Textiles is a textile artist also from Worcestershire. She offers creative textile workshops from her beautiful garden studio using both machine and hand embroidery in contemporary ways. Bookings and vouchers can be purchased from her website, and are a great idea if you crave a bit of "me" time.  A day course costs £75 including materials – don't worry if you're a complete novice as you can hire a sewing machine for the day, so there's no stopping you! www.tigleytextiles.co.uk
14. 
The Almanac: A Seasonal Guide to 2018
A beautiful book has just been launched called The Almanac: A Seasonal Guide to 2018, written by Lia Leendertz and is currently on sale at £3.99 on Amazon, but retails at £9.99. Although I don't know the author, it's a lovely little book and a must read for any nature lover. It covers months and seasons via moon-gazing, foraging, feast days, seasonal eating, meteor-spotting and gardening. It's only small in size, so it makes a great stocking filler. www.amazon.co.uk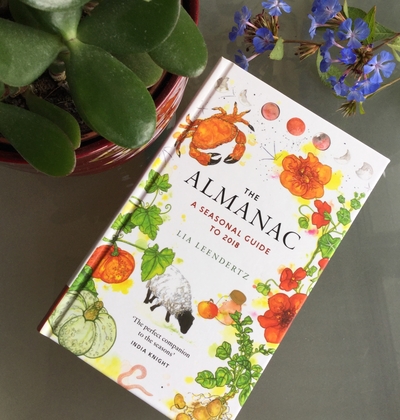 15. Join the Royal Horticultural Society (RHS)
For an annual fee of £59 you can join the RHS www.rhs.org.uk/ – membership includes free entry to the four RHS Gardens, where they can bring a family guest for free each time they visit. They'll also enjoy free entry to 200 RHS Partner Gardens. Plus, priority booking and access to quieter Members' Days at RHS Shows(RHS Chelsea Flower Show included), hundreds of free and discounted events at RHS Gardens, a monthly subscription to The Garden magazine and personalised advice from the friendly RHS Gardening Advice team.
Your gift will arrive in a deluxe pack, including six luxury postcards, two packets of seeds, vouchers for a free RHS tote bag and £5 to spend at RHS Gardens. Here's a photo of my first show garden which I created last year at RHS Malvern – I won a Silver Medal and also the People's Choice Award.
16. Cheeky calendar boys
If you like to support a charity and give to a good cause, then Perennial would really welcome your patronage.  They assist horticulturists when times get tough.  They've created a naked gardeners calendar which you can buy from their shop and costs £10 www.perennial.org.uk – you can also buy gifts, cards and wrapping paper too along with all sorts of useful gardening items.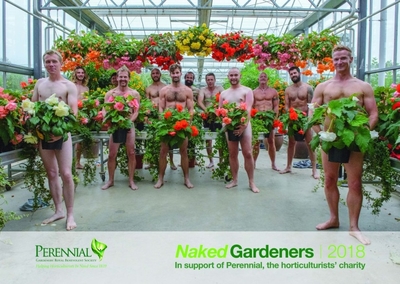 17. Personal garden design
If your loved one has been thinking of getting their garden sorted, then why not treat them to a bespoke garden design – you could divide the cost between family & friends which means everyone can contribute to a thoughtful gift. It costs £195 for a 10 meter border and is available from www.borderinabox.com .  So if you have no clue about gardening but want a pretty garden or have no desire to research what's needed and you find garden centres overwhelming with too many plants to choose from, this personal design service will help you get your dream garden and will save you money in the long run by having the right plant in the right place.
I hope I've inspired and encouraged you to buy gifts from my amazing network of friends – I know they will all be very grateful for your patronage and I hope you have a fabulous festive season!